 Automation
STATIC APPLICATION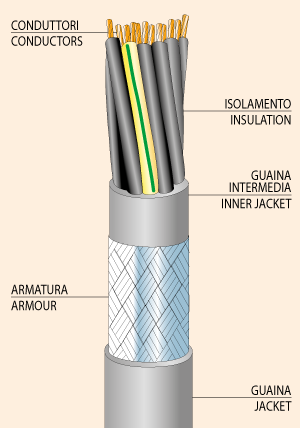 Armoured PVC Cables
STANDARD USE
Multicore power supply and control cables with armouring for industrial environments, high mechanical resistance, good resistance to oil.
Data sheet
More info
---
Technical details:

Conductors
Stranded bare or tinned copper (Cu-ETP1) CEI 20-29 cl.5, VDE 0295 cl.5, EN 60228, IEC 60228 ref.
Cross sect. area (mm2): from 0,14 to 10

Insulation
Polyvinylchloride (PVC) CEI 20-11 cl. R2, EN 50363 ref.
or Polyolefin (PE, PP)
Colour code:
up to 0,35 mm2: DIN 47100
from 0,50 mm2: Black numbered with or without Yellow/Green

Shield
Aluminium/polyester tape with copper drain wire
or
Aluminium/polyester tape with aluminium side in direct contact with braid
or
copper braid

Inner Jacket
Polyvinylchloride (PVC)
CEI 20-11 cl. TM2, EN 50363 Ref.






Armour
Zinc coated steel braid or
stainless steel braid

Jacket
Flame retardant and oil resistant Polyvinylchloride (PVC)
Colour code:
Transparent
Grey Ral 7001
Black Ral 9005



Operating Voltage
up to 0,35 mm2: 300 V
from 0,50 to 1 mm2: 300/500 V
from 1,5 mm2: 0,6/1 kV

Test Voltage
2000 V




Operating Temperature
-30°C + 80°C

Bending radius
15 times overall diameter of cable.

Flame retardant test
CEI 20-35/1-2, EN 60332-1-2, IEC 60332-1-2
| CODICE / CODE | FORMAZIONE / TYPE | Ø ESTERNO / OUTER Ø ±5% (mm) | PESO MEDIO / AVERAGE WEIGHT (kg/km) |
| --- | --- | --- | --- |
| | 2x0,5 | 7,7 | 77 |
| | 2x1,5 | 9,2 | 129 |
| | 3G1 | 9 | 113 |
| | 3G1,5 | 9,8 | 149 |
| | 4G1,5 | 10,6 | 172 |
| | 4G2,5 | 11,8 | 238 |
| | 4G4 | 14,5 | 365 |
| | 4G6 | 17,8 | 500 |
| | 4G10 | 20,3 | 780 |
| | 4G16 | 23,4 | 1090 |
| | 5G0,5 | 9,4 | 114 |
| | 5G1 | 10,6 | 162 |
| | 5G1,5 | 11,8 | 220 |
| | 5G2,5 | 13,6 | 300 |
| | 7G1 | 11,4 | 189 |
| | 7G1,5 | 12,8 | 259 |
| | 7G2,5 | 13,8 | 376 |
| | 7G4 | 16,4 | 557 |
| | 8G1 | 12,9 | 215 |
| | 12G1 | 14 | 323 |
| | 14G1 | 15 | 375 |
| | 18G0,5 | 14 | 306 |
| | 18G1 | 16,6 | 444 |
| | 25G1 | 20 | 566 |
| | 34G1 | 21,6 | 782 |