 Coaxial
Cables for telecommunications system, electronic instruments, monitoring in the CCTV plants.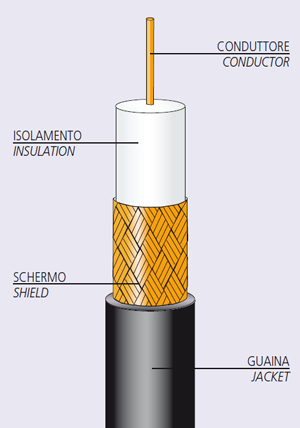 Coaxial cables
STANDARD USE
Cables for radiofrequency telecommunications system, electronic instruments,monitoring in the cctv plants.
Data sheet
More info
---
Technical details:

Conductors
Bare copper wires, Tinned copper wires or Copperweld.



Jacket
Flame retardant Polyvinylchloride (PVC) lead free.
Colour: Black Ral 9005 or upon request.

Operating temperature
-25°C +80°C(fixed laying)

Bending radius
10 times overall diameter of cable (fixed laying).

Flame retardant test
CEI 20-35/1-2, EN 60332-1-2, IEC 60332-1-2.

Double shield
Aluminium/polyester tape and copper braid or double copper braid.

Armour
Zinc coated steel braid or stainless steel braid.
| CODICE / CODE | IMPEDENZA / IMPEDANCE | CAPACITA' / CAPACITANCE | ISOLAMENTO / INSULATION | GUAINA / JACKET |
| --- | --- | --- | --- | --- |
| 8 A/U | 50 | 97 | PE 7,20 | PVC 10,30 |
| 11 A/U | 75 | 67 | PE 7,20 | PVC 10,30 |
| 58 C/U | 50 | 95 | PE 2,95 | PVC 5,0 |
| 59 B/U | 75 | 69 | PE 3,70 | PVC 6,15 |
| 59 B/U | 75 | 69 | PE 3,70 | PVC 6,15 |
| 62 A/U | 93 | 46 | PEA 3,70 | PVC 6,20 |
| 174/U | 50 | 100 | PE 1,52 | PVC 2,50 |
| 213/U | 50 | 97 | PE 7,25 | PVC 10,30 |
| 214/U | 50 | 97 | PE 7,25 | PVC 10,8 |