 Automation
STATIC APPLICATION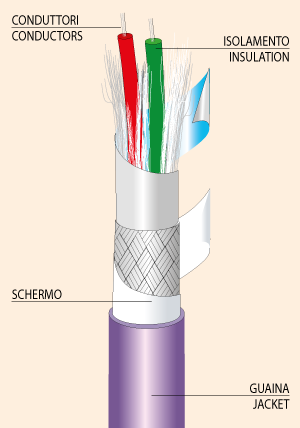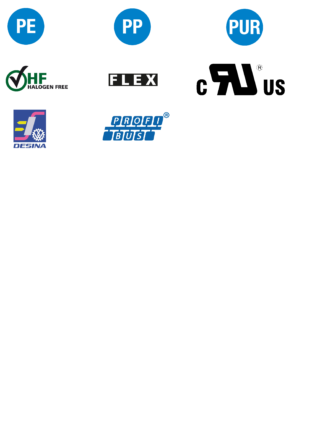 Profibus PUR
STANDARD USE
Profibus low capacitance cables with twisted pairs and double shield, for industrial application.
Profibus DP – FMS L2, Profibus CAN, I-BUS.
Data sheet
More info
---
Technical details:

Conductors
Solid or stranded bare or tinned copper (Cu-ETP1)
UL 1581, VDE 0295 cl.5 ref.

Insulation
Polyolefin.
Twisted pair colour code: differently coloured.

Shield
Aluminium/polyester tape helically wound
and tinned copper braid.
Optical coverage braid:
≥ 60% standard - ≥ 85% on request

Assembling
Non woven tape.






Jacket
Low friction halogen free matt flame retardant Polyurethane, hydrolysis, microbial attack, abrasion, tear, oil resistant.
Colour code: Violet Ral 4001.

Electrical Conductor Resistance
24AWG: < 94,2 Ohm/Km
22AWG: < 59,4 Ohm/Km




Surface Transfer Impedance
Optical coverage braid shield ≥ 60%: max 50 mohm/m (f<10MHz).
Optical coverage braid shield ≥ 85%: max 20 mohm/m (f<10MHz).


Operating Temperature
-30°C +80°C

Bending radius
6 times overall diameter of cable.

Flame retardant test
CEI 20-35/1-2, EN 60332-1-2, IEC 60332-1-2, UL 1581 cable flame test, FT1 test

Non-Halogen Verification
< 0,5 % (CEI 20-37/2-1, CEI EN 50267-2-1, IEC 60754-1)




UL-CSA Approval (E235078)
Style 20236 80°C 30 V – CSA I/II A/B 80°C 30 V FT1
| SISTEMA / SYSTEM | CODICE / CODE | FORMAZIONE / TYPE | Ø ESTERNO / OUTER Ø ±5% (mm) | PESO MEDIO / AVERAGE WEIGHT (kg/km) |
| --- | --- | --- | --- | --- |
| PROFIBUS | | (1x2x0,64/2,55)ST | 7,8 | 62 |
| PROFIBUS HYBRID | | (1x2x0,64/2,55)ST+3G0,75 | 9,5 | 105 |
| PROFIBUS L2 PUR EXTRAFLEX | | 1x2x22AWG | 8,1 | 81,0 |
| PROFIBUS CAN PUR EXTRAFLEX | | 1x2x24AWG | 6,5 | 46,0 |
| PROFIBUS CAN PUR EXTRAFLEX | | 2x2x24AWG | 8,5 | 83,0 |
| I-BUS PUR EXTRAFLEX | | 3x2x24AWG | 9,0 | 120,0 |