 Bus Cables
AUTOMOTIVE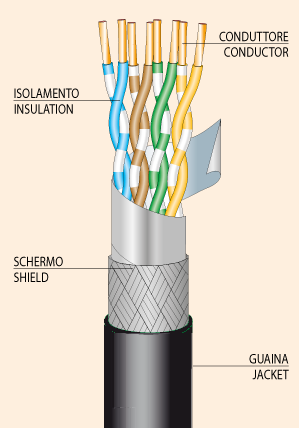 Ethernet Automotive Cat. 5E
STANDARD USE
S-FTP cat. 5E double shielded cables,
RJ45 connectable, for interconnection
of Automotive electronic appliances.
Cables with drain wire.
Data sheet
More info
---
Technical details:

Conductors
Flexible stranded bare copper (Cu-ETP1) conductors ISO 6722,
FCA Procurement specification 91116/01.

Insulation
"Lead free" Polyolefin, operating temperature up to 105°C.
4 pairs colour code cable:
(White/Blue, Blue), (White/Orange, Orange)(White/Green, Green),(White/Brown, Brown)

First Shield
Aluminium/Polyester tape with aluminium side in direct contact with braid and drain wire.

Overall Shield
Tinned copper braid.
Optical coverage braid: ≥ 85%.

Jacket
Lead free Polyvinylchloride (PVC), temperature rating up to 105°C, oil and fuel resistant.
Colour code: Black.

Electrical Conductor Resistance
26AWG: 150 Ohm/Km




Nominal Pair Capacitance
50 pF/m

Characteristic Impedance
100 ± 15 Ohm (1 – 100 MHz)

Transmission Rate
26AWG: 100 Mbit/s: up to 75 m


Operating Temperature
-40°C +105°C

Bending radius
10 times overall diameter of cable.

Flame retardant test
ISO 6722
ISO 14572
| SISTEMA / SYSTEM | CODICE / CODE | FORMAZIONE / TYPE | Ø ESTERNO / OUTER Ø ±5% (mm) | PESO MEDIO / AVERAGE WEIGHT (kg/km) |
| --- | --- | --- | --- | --- |
| | | (4x2x26AWG)SN-ST | 6,1 | 50 |