 Coaxial
Cables for telecommunications system, electronic instruments, monitoring in the CCTV plants.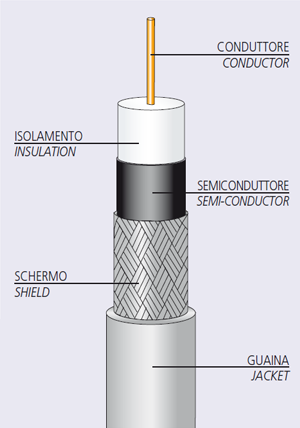 Low noise Rg-174 coaxial cable
STANDARD USE
Low noise coaxial cables for measuring probes, transducers, medical devices, and microphonic transmission lines.
Data sheet
More info
---
Technical details:

Conductor
stranded Copperweld 26AWG (7x34AWG).


Semiconductor
Halogen free (LSZH) semiconductive compound.
DC resistance @ 20°C: 310 KOhm/m.

Shield
Tinned copper braid.
Optical coverage: 90%

Jacket
Flame retardant Polyvinylchloride (PVC) lead free, CEI 20-11, EN 50363-0 type Rz.
Colour: Grey Ral 7001 or upon request.

Nominal capacitance
130 pF/m




Characteristic impedance
50 Ohm

Operating temperature
-15°C +80°C (fixed laying)

Bending radius
10 times overall diameter of cable

Flame retardant test
CEI 20-35/1-2, EN 60332-1-2, IEC 60332-1-2.
| CODICE / CODE | IMPEDENZA / IMPEDANCE | CAPACITA' / CAPACITANCE | Ø ESTERNO / OUTER Ø ±5% (mm) | PESO MEDIO / AVERAGE WEIGHT (kg/km) |
| --- | --- | --- | --- | --- |
| 174 LOW NOISE | 50 | 130 | 3,0 | 17 |