 Coaxial
Cables for telecommunications system, electronic instruments, monitoring in the CCTV plants.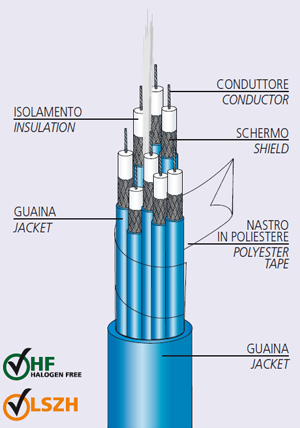 Multicoaxial cables for video application LSZH
STANDARD USE
Cables for video connections
Impedance: 75 Ohm.
Data sheet
More info
---
Technical details:

Coaxial cable Microcoaxial 75
microcoaxial 75 Ω LSZH

Conductor
7-stranded tinned copper conductor 28AWG (7x36AWG).

Insulation
LSZH Foamed Polyethylene.

Shield
Bare copper braid or tinned copper braid.
Optical coverage: 90%

Jacket
Non-contaminating special LSZH flame retardant compound.
Colour code:
Black.
Black, Blue.
Red, Green, Blue.
Red, Green, Blue, Black.
Blue numbered from 1 to N (N: number of microcoaxials).

Assembling
Polyester tape helically wound.









Outer jacket
Special flame retardant halogen free low smoke compound CEI 20-11, EN 50363-0 quality M1, VDE 0207 HM2.
Colour: Black, Blue, Grey or upon request.

Electrical resistance
0,09 mm2 (28AWG): < 237 Ohm/Km.





Operating temperature
-25°C +80°C(fixed laying)

Bending radius
15 times overall diameter of cable (fixed laying).



Surface transfer impedance
max 200 mOhm/m (f < 10 MHz)

Flame retardant test
CEI 20-35/1-2, EN 60332-1-2, IEC 60332-1-2.

Non-halogen verification
< 0,5 % (CEI 20-37/2-1, CEI EN 50267-2-1, IEC 60754-1)

Corrosivity of combustion gas
pH: > 4,3 - Conductivity: < 10 μS/mm (CEI 20-37/2-2, CEI EN 50267-2-2, IEC 60754-2)

Smoke density
Transmission of light: > 70% (CEI 20-37/3-1, EN 61034-2)

Toxicity index
< 2 (CEI 20-37/4-0)
Download the pdf file containing all the technical features
| CODICE / CODE | FORMAZIONE / TYPE | Ø ESTERNO / OUTER Ø ±5% (mm) | PESO MEDIO / AVERAGE WEIGHT (kg/km) |
| --- | --- | --- | --- |
| | 1-MICROCOAX 75 Ω | 2,70 | 12 |
| | 2-MICROCOAX 75 Ω | 6,90 | 53 |
| | 3-MICROCOAX 75 Ω | 7,40 | 64 |
| | 4-MICROCOAX 75 Ω | 8,10 | 82 |
| | 5-MICROCOAX 75 Ω | 9,0 | 105 |
| | 6-MICROCOAX 75 Ω | 9,9 | 125 |
| | 7-MICROCOAX 75 Ω | 9,9 | 135 |
| | 8-MICROCOAX 75 Ω | 11,0 | 155 |
| | 9-MICROCOAX 75 Ω | 12,0 | 160 |