 Building
Cables for security systems, intrusion detection, burglar alarm, and for the connection of video door phones, CCTV systems for access control. KNX BUS cables for building automation systems.
Download the catalog SECURITY 2015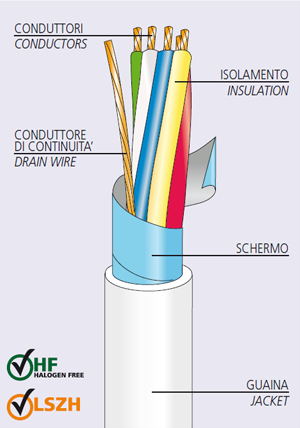 Low smoke halogen free (LSZH) shielded alarm cables complying with cei unel 36762
STANDARD USE
Alarm, signal and control cables for installation in crowded buildings (i.e. theaters, banks, stores, shops, schools, hotels, airports, hospitals, etc.).
Our alarm cables comply with CEI UNEL 36762 norm.
Data sheet
More info
---
Technical details:

Conductors
Stranded bare copper conductors

Insulation
Special flame retardant, halogen free, low smoke compound.
Colour: White or upon request.

Shield
Aluminium/polyester tape helicaly wound with stranded bare copper drain wire.

Jacket
Special flame retardant halogen free low smoke compound CEI 20-11, EN 50363-0 quality M1, VDE 0207 HM2.
Colour: White or upon request.

Operating temperature
-25°C +80°C(fixed laying)

Bending radius
5 times overall diameter of cable (fixed laying).

Operating voltage
50 Vac max
120 Vcc max

Test Voltage
2000 V


Flame retardant test
CEI 20-35/1-2, EN 60332-1-2, IEC 60332-1-2.

No flame propagation test
CEI 20-22/3, EN 60332-3-24 cat.C, IEC 60332-3-24 cat.C.

Non-halogen verification
< 0,5 % (CEI 20-37/2-1, CEI EN 50267-2-1, IEC 60754-1)

Corrosivity of combustion gas
pH: > 4,3 - Conduttività: < 10 μS/mm (CEI 20-37/2-2, CEI EN 50267-2-2, IEC 60754-2)

Smoke density
Trasmittanza: > 70% (CEI 20-37/3-1, EN 61034-2)

Toxicity index
< 2 (CEI 20-37/4-0)

Shield
Bare copper braid.

Armour
Zinc coated steel braid
or stainless steel braid.