 CERTIFICATED
Certificated Cables for special applications like: Geophysic and Seismic applications, CPR certificated cables and LSZH cables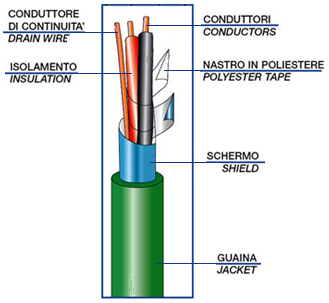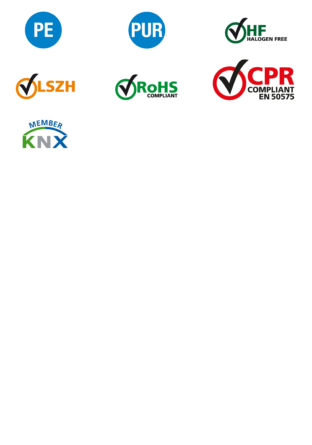 KNX/EIB LSZH Cable CPR Cca-s1b,d1,a1
STANDARD USE
Halogen-free cables (LSZH) for bus systems managed in home automation and building automation for intelligent control of lighting, heating, air conditioning, entrance management and energy management.
The KNX bus is used to connect different type of sensors (eg switches, thermostats, timers) and actuators (eg motors, heaters and air conditioners, lamps, shutters).
Cables that can be used in places with fire risk and high presence of people (theaters, banks, supermarkets, schools, airport, hospitals, etc.) to guarantee the protection of human life, buildings and goods.
Twisted pair cable.
Data sheet
More info
---
Technical details:

Conductors
Solid bare copper diameter 0.80 mm (nominal cross sect. area 0.50 mm2 - 20AWG)

Insulation
Special halogen free low smoke compound

Shield
Aluminium/polyester tape helically wound, solid bare copper drain wire 0,80 mm diameter

Jacket
LSZH Special halogen free flame retardant thermoplastic compound CEI 20-11 quality M1, EN 50363, VDE 0207 HM2
Colour code: Green

Electrical Conductor Resistance
< 37,5 Ohm/Km


Working Temperature
-15°C + 80°C


Flame Retardant Test
CEI 20-35/1-2, EN 60332-1-2, CEI 20-22/3-4, EN 60332-3-24, IEC 60332-3-24

Non-Halogen Verification
< 0,5 % (CEI 20-37/2-1, CEI EN 50267-2-1, IEC 60754-1)

Surface Transfer Impedance
max 200 mohm/m (f<10MHz)

Capacitance
cond/cond: < 100 pF/m

CPR
The Above Mentioned Cables
Can Be Supplied With CPR Cca-s1b,d1,a1 Euro Class certification
| ARMATURA / ARMOURED | CODICE / CODE | FORMAZIONE / TYPE | Ø ESTERNO / OUTER Ø ±5% (mm) | PESO MEDIO / AVERAGE WEIGHT (kg/km) |
| --- | --- | --- | --- | --- |
| NON ARMATO / UNARMOURED | | 2 x 0,8 | 5,0 | |
| | | 2 x 2 x 0,8 | 5,6 | |
| ARMATO / ARMOURED | | 2 x 0,8 | 7,6 | |
| | | 2 x 2 x 0,8 | 8,0 | |