 Automation
DYNAMIC APPLICATION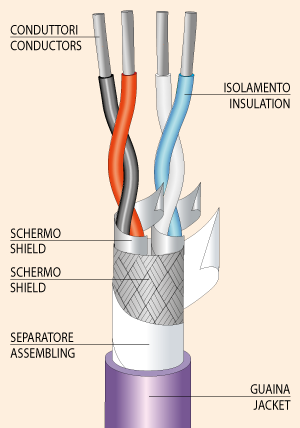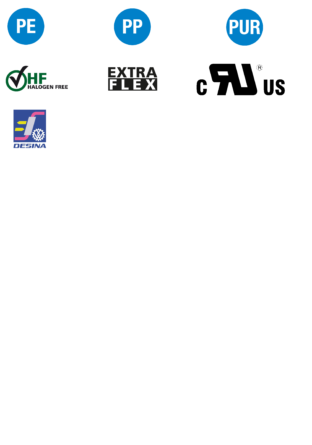 DeviceNet™ PUR
STANDARD USE
Multicore double shielded cables for interconnection of industrial electronic appliances. Data pair and power supply pair integrated in one cable; outstanding resistance to industrial oils and other chemical and mechanical agents, UL-CSA approval.
Data sheet
More info
---
Technical details:

Conductors
Extraflexible stranded tinned copper (Cu-ETP1)
UL 1581, CEI 20-29, VDE 0295, EN 60228, IEC 60228 ref.

Insulation
Polyolefin.

Supply pair colour code: Red, Black.
Data pair colour code: Light Blue, White.

Shield on every single pair
Aluminized tape in direct contact with braid.

Overall Shield
Tinned copper braid with stranded tinned copper drain wire.
Optical coverage: ≥ 85%.

Assembling
Non woven tape.

Jacket
Low friction halogen free matt flame retardant Polyurethane, hydrolysis, microbial attack, abrasion, tear, oil resistant UL 1581 ref.

Colour code: Violet Ral 4001

Operating Voltage
30 V
300 V

Operating Temperature
Dynamic application: -40°C + 80°C

Electrical Conductor Resistance
TRUNK 18AWG: < 23,2 Ohm/Km
TRUNK 15AWG: < 11,3 Ohm/Km

DROP 24AWG: < 94,2 Ohm/Km
DROP 22AWG: < 59,4 Ohm/Km

Transmission Rate
TRUNK:
500 Kbit/s: up to 200 m
250 Kbit/s: up to250 m
125 Kbit/s: up to 500 m

DROP:
125÷500 Kbit/s: up to 100 m


Characteristic Impedance
120 Ohm

Bending radius
10 times overall diameter of cable.


Maximun Acceleration
10 m/sec2

Flex Life
from 3 to 6 million of motions
(bending radius 10 times overall diameter of cable)

Flame retardant test
CEI 20-35/1-2, EN 60332-1-2, IEC 60332-1-2, UL 1581 cable flame test, FT1 test

Non-Halogen Verification
< 0,5 % (CEI 20-37/2-1, CEI EN 50267-2-1, IEC 60754-1)





UL-CSA Approval (E235078)
AWM Style 20236 80°C 30 V – CSA I/II A/B 80°C 30 V FT1
AWM Style 20233 80°C 300 V – CSA I/II A/B 80°C 300 V FT1
AWM Style 20554 80°C 30 V - CSA I/II A/B 80°C 30 V FT1
| SISTEMA / SYSTEM | CODICE / CODE | FORMAZIONE / TYPE | Ø ESTERNO / OUTER Ø ±5% (mm) | PESO MEDIO / AVERAGE WEIGHT (kg/km) |
| --- | --- | --- | --- | --- |
| DROP | | [(2x24AWG)SN+(2x22AWG)SN]ST DROP | 7,0 | 60 |
| TRUNK | | [(2x18AWG)SN+(2x15AWG)SN]ST TRUNK | 11,3 | 180 |