 Automation
DYNAMIC APPLICATION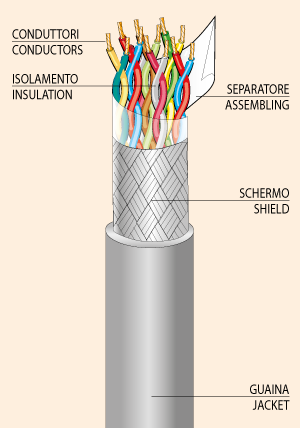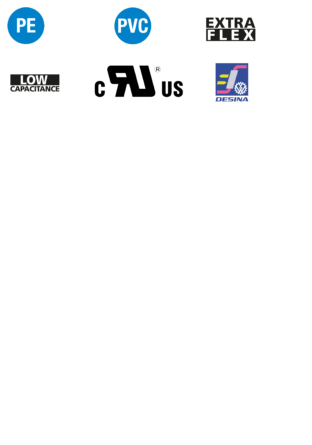 PVC Twisted Pair Shielded Cables
STANDARD USE
Twisted pair shielded control cables for dynamic applications in industrial drag chains, with small external dimensions, high flexibility and good resistance to industrial oils,
UL-CSA approval.
Data sheet
More info
---
Technical details:

Conductors
Extraflexible stranded bare copper (Cu-ETP1)
CEI 20-29 cl.6, VDE 0295 cl.6, EN 60228, IEC 60228 ref.
Cross sect. area (mm2): from 0,14 to 0,50.

Insulation
Polyolefin (PE, PP) UL 1581 ref.
Colour code: DIN 47100



Assembling
Protective tape

Overall Shield
Tinned copper braid.
Optical coverage: ≥ 85%

Assembling (Optional)
Protective tape

Jacket
Flame retardant and oil resistant Polyvinylchloride (PVC)
UL 1581, CEI 20-11 cl. TM2, EN 50363 ref.
Colour code:
Grey Ral 7001
(other colours on request)



Operating Temperature
Dynamic application: -15°C +80°C

Bending radius
7,5 times overall diameter of cable.


Maximun Acceleration
10 m/sec2

Flex Life
from 3 to 6 million of motions
(bending radius 10 times overall diameter of cable)

Flame retardant test
CEI 20-35/1-2, EN 60332-1-2, IEC 60332-1-2, UL cable flame test, FT1 test

UL-CSA Approval (E235078)
AWM STYLE 20233 o 20549 – CSA I/II A/B 80°C 300 V FT1
| CODICE / CODE | FORMAZIONE / TYPE | Ø ESTERNO / OUTER Ø ±5% (mm) | PESO MEDIO / AVERAGE WEIGHT (kg/km) |
| --- | --- | --- | --- |
| | 2x2x0,14 | 5,1 | 35 |
| | 3x2x0,14 | 5,6 | 37 |
| | 4x2x0,14 | 6,0 | 43 |
| | 5x2x0,14 | 6,6 | 50 |
| | 6x2x0,14 | 7,0 | 58 |
| | 8x2x0,14 | 7,5 | 78 |
| | 10x2x0,14 | 8,9 | 87 |
| | 16x2x0,14 | 9,5 | 128 |
| | 2x2x0,25 | 5,8 | 45 |
| | 3x2x0,25 | 6,5 | 49 |
| | 4x2x0,25 | 6,9 | 58 |
| | 5x2x0,25 | 7,4 | 79 |
| | 6x2x0,25 | 7,8 | 79 |
| | 8x2x0,25 | 8,5 | 122 |
| | 10x2x0,25 | 9,9 | 130 |
| | 16x2x0,25 | 11,2 | 183 |
| | 2x2x0,34 | 6,1 | 52 |
| | 3x2x0,34 | 6,9 | 56 |
| | 4x2x0,34 | 7,4 | 68 |
| | 5x2x0,34 | 8,1 | 80 |
| | 6x2x0,34 | 8,7 | 96 |
| | 8x2x0,34 | 9,3 | 142 |
| | 10x2x0,34 | 10,7 | 152 |
| | 16x2x0,34 | 11,9 | 222 |
| | 2x2x0,50 | 6,7 | 60 |
| | 3x2x0,50 | 7,8 | 81 |
| | 4x2x0,50 | 8,3 | 99 |
| | 5x2x0,50 | 9,3 | 119 |
| | 6x2x0,50 | 10,1 | 143 |
| | 8x2x0,50 | 11,6 | 183 |