 Automation
STATIC APPLICATION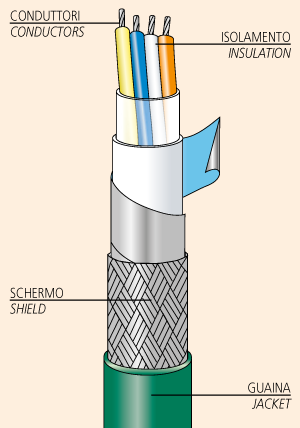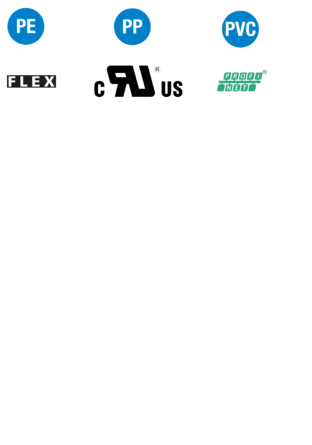 Profinet Type A Cat. 5E PVC
STANDARD USE
S-FTP Profinet type A, cat. 5E double shielded cables, stranded to quad (2 pairs) for interconnection of industrial electronic appliances, in automation factory plant, UL CSA approval.
Data sheet
More info
---
Technical details:

Conductors
Solid bare copper
(Cu-ETP1) 22AWG (0,34 mm2 ) sec. UL 1581

Insulation
Polyolefin.
Stranded quad (2 pairs)
Colour code:
(White, Blue), (Yellow, Orange)

Assembling
Protective tape.


First Shield
Aluminium/Polyester tape with aluminium side in direct contact with braid.

Shield
Tinned copper braid.
Optical coverage braid: ≥ 85%.

Jacket
Polyvinilchloride (PVC)
acc. UL 1581, CEI 20-11 cl. TM2 ref.
Colour code:
Green Ral 6018 Desina

Electrical Conductor Resistance
22AWG: < 59,4 Ohm/Km






Nominal Pair Capacitance
55 pF/m

Characteristic Impedance
100 ± 15 Ohm (1 – 100 MHz)

Transmission Rate
100 Mbit/s

Operating Voltage
300 V
1000V

Operating Temperature
-30°C +80°C

Bending radius
10 times overall diameter of cable.

Flame retardant test
UL 1581 FT1 test

UL-CSA Approval (E235078)
Style 2464 80°C 300 V - CSA I/II A/B 80°C 300 V FT1
Style 2571 80°C 300 V - CSA I/II A/B 80°C 300 V FT1
Style 2570 80°C 1000 V - CSA I/II A/B 80°C 1000 V FT1
| SISTEMA / SYSTEM | CODICE / CODE | FORMAZIONE / TYPE | Ø ESTERNO / OUTER Ø ±5% (mm) | PESO MEDIO / AVERAGE WEIGHT (kg/km) |
| --- | --- | --- | --- | --- |
| PROFINET TYPE A | | (1x4x22AWG/1)Q-R-SN-ST-PVC | 6,5 | 63,4 |