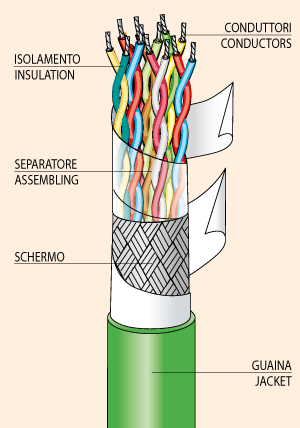 PVC-PUR Encoder Cables
STANDARD USE
Cables for interconnecting Bosch Rexroth® (ex Indramat), Siemens®, Siemens® Drive CliQ, Heidenhain® encoder or equivalent systems, with outstanding resistance to industrial oils and other chemical and mechanical agents, UL-CSA DESINA approval.
Data sheet
More info
---
Technical details:

Conductors
Flexible bare or tinned copper (Cu-ETP1)
UL 1581, CEI 20-29 cl.5, VDE 0295 cl.5, EN 60228, IEC 60228 ref.

Insulation
Polyvinylchloride (PVC) UL 1581 ref.
Colour code: differently coloured

Shield
Tinned copper braid.
Optical coverage: ≥ 85%.

Assembling
Polyester tape

Optional Assembling
Non woven protective tape.

Jacket
Low friction halogen free matt flame retardant Polyurethane, hydrolysis, microbial attack, abrasion, tear, oil resistant
UL 1581 ref.
Colour code:
Green Ral 6018 DESINA (other colours on request)

Electrical Conductor Resistance
0,14 mm2: < 150,0 Ohm/Km
0,25 mm2: < 91,0 Ohm/Km
0,34 mm2: < 59,5 Ohm/Km
0,50 mm2: < 40,1 Ohm/Km
1,0 mm2: < 20,0 Ohm/Km

Operating Voltage
30 V or 300 V







Operating Temperature
-30°C + 80°C

Bending radius
10 times overall diameter of cable.

Flame retardant test
CEI 20-35/1-2, EN 60332-1-2, UL 1581 cable flame test, FT1 test

UL-CSA Approval (E235078)
AWM Style 20233 80°C 300 V - CSA I/II A/B 80°C 300 V FT1
AWM Style 20549 80°C 300 V - CSA I/II A/B 80°C 300 V FT1
AWM Style 20236 80°C 30 V – CSA I/II A/B 80°C 30 V FT1
AWM Style 20554 80°C 30 V - CSA I/II A/B 80°C 30 V FT1
| SISTEMA / SYSTEM | CODICE / CODE | FORMAZIONE / TYPE | Ø ESTERNO / OUTER Ø ±5% (mm) | PESO MEDIO / AVERAGE WEIGHT (kg/km) |
| --- | --- | --- | --- | --- |
| SIEMENS® / HEIDENHAIN® | | | | |
| | | (8x2x0,18)ST | 8,1 | 86 |
| | | (4x2x0,18)ST | 6,6 | 58 |
| | | (2x2x0,18)ST | 5,2 | 37 |
| | | [(4x2x0,34)ST+4x0,50]ST | 9,3 | 119 |
| | | [3x(2x0,14)ST+(2x0,5)ST]ST | 9,3 | 112 |
| | | [(3x2x0,14)ST+4x0,14+2x0,50]ST | 8,9 | 106 |
| | | [(3x2x0,14)ST+2x0,50+4x0,14+4x0,22]ST | 9,7 | 121 |
| | | (12x0,22)ST | 7,1 | 73 |
| SIEMENS® Drive CliQ | | | | |
| | | (2x2x0,15+1x2x0,38)ST | 7,1 | 70 |
| | | (2x2x0,22+1x2x0,38)ST | 7,5 | 69 |
| | | (2x2x0,22)ST | 6,9 | 61 |
| BOSCH REXROTH® (EX INDRAMAT®) | | | | |
| | | (4x2x0,25+2x0,50)ST | 8,5 | 109 |
| | | (4x2x0,25+2x1)ST | 9,0 | 130 |
| | | (9x0,50)ST | 8,9 | 125 |
| | | [4x1+4x(2x0,14)ST+4x0,14]ST | 9,9 | 147 |
| | | [2x1+3x(2x0,25)ST+3x0,25]ST | 10,2 | 125 |
| FANUC | | | | |
| | | (6x1+3x2x0,18)ST | 8,9 | 129 |
| | | (1x2x0,18+5x0,5)ST | 7,8 | 83 |
| | | (2x2x0,18+5x0,5)ST | 7,8 | 83 |
| | | (3x2x0,18+6x0,5)ST | 8,9 | 100 |
| | | (4x2x0,22+2x0,5)ST | 7,7 | 85 |
| | | (5x2x0,18+6x0,5)ST | 8,9 | 85 |
| | | (10x2xAWG28)ST | 6,0 | 54 |
| LENZE | | | | |
| | | 3x(2x0,14)ST+2x(0,5)ST | 9,8 | 107 |
| | | 4x(2x0,14)ST+1x(2x1)ST | 11,4 | 145 |
| | | 3x(2x0,14)+4x0,14+2x(2x0,5)ST | 12,0 | 156 |
| | | 3x(2x0,14)ST+(3x0,14)ST | 9,2 | 96 |
| HEIDENHAIN | | | | |
| | | [3x(2x0,14)ST+2x(0,5)ST]ST | 8,3 | 129 |
| | | (4x2x0,14+4x0,5)ST | 8,5 | 83 |
| | | [4x2x0,14+4x0,5+(4x0,14)ST]ST | 8,5 | 100 |
| | | [3x(2x0,14)ST+2x(1)ST]ST | 8,3 | 85 |
| 17 PIN HEIDENHAIN® | | | | |
| | | (6x2x0,34+2x0,34/S+2x1)ST | 10,5 | 166 |