 Building
Cables for security systems, intrusion detection, burglar alarm, and for the connection of video door phones, CCTV systems for access control. KNX BUS cables for building automation systems.
Download the catalog SECURITY 2015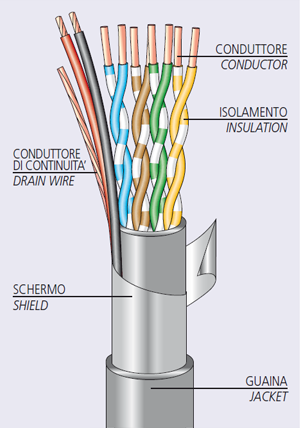 UTP cat. 5E hybrid cables for videosurveillance
STANDARD USE
Hybrid cables UTP category 5E EIA/TIA-568-B.2 – EN 50288-3-1 (data and power supply).
Data sheet
More info
---
Technical details:

Conductors
Stranded bare copper conductors.

Insulation
Flame retardant Polyvinylchloride (PVC) lead free CEI 20-11, EN 50363-0 type R2 ref.
Colour code: differently coloured.

Shield
Aluminium/polyester tape helically wound with stranded bare copper drain wire.

Jacket
Special flame retardant Polyvinylchloride (PVC) lead free CEI 20-11, EN 50363-0 type Rz.
Colour: Grey or upon request.

Conductors
Solid bare copper (Cu-ETP1) UL 1581 ref.

Insulation
Polyolefin
4 pairs colour code cable: (White/Blue, Blue), (White/Orange, Orange), (White/Green, Green), (White/Brown, Brown).

Jacket
Polyvinylchloride (PVC)
CEI 20-11 Cl. TM2, VDE 0207 Cl- YM2 ref.
Colour: Grey Ral 7001, other upon request.

Electrical conductor resistance
24AWG: < 85,9 Ohm/Km





Nominal pair capacitance
53 pF/m

Characteristic impedance
100 ± 15 Ohm (1 – 100 MHz)

Transmission rate
100 Mbit/s: up to 100 m

Operating temperature
-25°C +80°C(fixed laying)

bending radius
8 times overall diameter of cable (fixed laying).

Flame retardant test
CEI 20-35/1-2, EN 60332-1-2.
Data trasmission cable
F/UTP CAT.5E
SF/UTP CAT.5E
U/UTP CAT.6
F/UTP CAT.6
SF/UTP CAT.6
S/FTP CAT.7 600Mhz - 10 Ghz

Armour
Zinc coated steel braid
or stainless steel braid.
| CODICE / CODE | FORMAZIONE / TYPE | Ø ESTERNO / OUTER Ø ±5% (mm) | PESO MEDIO / AVERAGE WEIGHT (kg/km) |
| --- | --- | --- | --- |
| | [2x0,50+(4x2x24AWG) UTP CAT.5E]SN | 8,8 | |
| | [2x0,75+(4x2x24AWG) UTP CAT.5E]SN | 9,0 | |
| | [2x1+(4x2x24AWG) UTP CAT.5E]SN | 9,2 | |
| | [2x1,5+(4x2x24AWG) UTP CAT.5E]SN | 9,5 | |
| | [2x2,5+(4x2x24AWG) UTP CAT.5E]SN | 10,0 | |